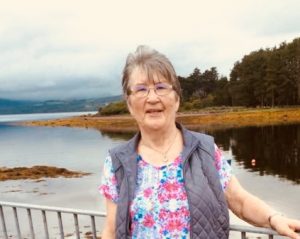 The school where I was taught for nine years from 1949-1958 by Bridie Neilan Wall holds precious memories for me. Mrs Wall, known by pupils as 'The Mrs', was a creative and inspiring teacher. There were roughly 34 pupils attending the school –one quarter of the pupils were from Kilteevan and three quarters from Knockcroghery. The pupils in my class were Seamus McDermott from Clonmore, Nancy Lally from Annaghmore, Paddy McDermott from Portrun, Paddy Tully and Mary Murphy from Bracknagh and the teacher's daughter Anna Wall.
I have very pleasant memories of the Junior classes which were held in one room. There was a folding partition between the two rooms which was always drawn back till we got a second teacher, Pearl Griffin, when I was in 4th class. Mrs Wall loved art and crafts and we spent time every day making animals, carts, and our own 'wild' creations from match-boxes, matches-sticks, cork etc. and 'marla'. There was a colourful abacus or counting frame in the corner with which we played. Our writing equipment was slates and chalk.
Among my memories of the Senior room are of making large walls maps of Ireland and England out of 'paper mache' and 'marla', learning plain chant for the Liturgical Festival, entering pictures for the Texaco Art Competition, learning the tin whistle  and of course reciting poetry. One of the advantages of being in a one teacher school is that you hear everything that other classes are learning. From a very early age I knew many poems that I heard older pupils reciting.
Shannon View, its teacher and pupils holds a special place in my heart.
-Sr. Kathleen Glennon, Clooneskert.