There was a huge amount of praise accredited to Roscommon County Council at the recent Portrun Development Association Ltd AGM in relation to the Flood Relief work carried out by the council. Roscommon County Council have completed road works in both Portrunny and the approach road to Cloonmore which were extensively flooded during heavy rain fall at the end of 2015 and early 2016.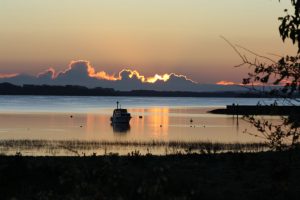 This heavy rain fall forced local residents to abandon their cars and use tractors in order to access their dwellings. The council carried out extensive work to have the level of the roads increased over the last number of months to prevent a similar scene as experienced in 2015/16.
Speaking at the AGM outgoing Chairperson Eamon Spillane complemented Roscommon County Council on their cooperation and singled out Eugene Dwyer, Ivor Kilcline, Anthony McDermott and Denis White for their assistance following on from representation made by Portrun Development Association and its Flood Relief subcommittee. Mr Spillane advised the large attendance that this was 'a prime example of a local authority responding to the needs of a community'.
The AGM was an opportunity for the attendees to hear on the activities of the association for the forthcoming year and the progress to date. A new committee was also established which saw the appointment of Gerry Hanlon to Chairperson of the association. Mr Hanlon paid tribute to the outgoing Chairperson and congratulated the former committee on their work during the previous year.
Portrun Development Association.
February 2017.