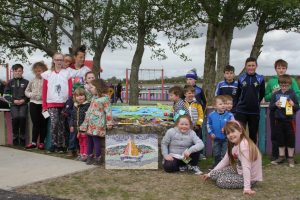 On Easter Saturday 15 April 2017 Portrun Development Association held a 'Community Art Day'.  The community who were invited gathered together at the playground and picnic area.   The theme of the event was the 'Past, Present and Future'.  The day aimed to involve the whole community in developing a strong vision for the future of Portrunny.   The event represented a coming together of local people to share, learn, talk and be inspired.  The day offered the opportunity to continue building a community through the arts and provided people with a window into the past, present and future of Portrunny through the creation of their art work.
Under the supervision of Local Artist Cora Mugan participants created beautiful murals and mosaics. In the morning participants also painted local place and family names on Easter eggs and natural rocks found on the shore. In the afternoon the children enjoyed a lively egg hunt. 
Portrun Development Association would like to acknowledge IPB Insurance who have kindly supported this initiative through their IPB Community Engagement Fund which provides funding to community groups as part of their commitment to 'giving back to society'.