---
Traditions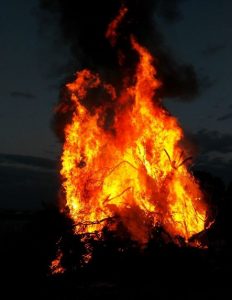 Bonfire Night is the name given to various annual celebrations characterised by bonfires and fireworks. The event celebrates different traditions on different dates, depending on the country. Often known as St John's Eve (23 June), a similar bonfire tradition survives in parts of Scandinavia where it is known as Walpurgis Night  (30th April). St John's Eve is also a very important celebration in Galicia and Northern Portugal. Other cultures also include night-time celebrations involving bonfires and/or fireworks.
Bonfire Night at Portrunny has been a tradition for centuries, traditionally a large fire is lit on the shoreline. The local community come together on this night for some craic agus ceol. There is always a lovely atmosphere with  some brilliant local talent of singers and musicians.
The Monster of Lough Ree by Pat Watson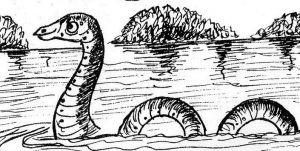 St. Patrick lived in Ireland in 432 ad. One of the legendary things he did was to banish all reptiles from the land. But apparently some survived, particularly one that resides here! Every 7 years a strange creature appears in Lough Ree and devours swimmers!!!
This clever monster appeared to three sober clergymen in the 1950s. They described it as being a giant eel like creature about two and a half feet thick and fifty feet long, with four loops above the water.  They thought he had a lump on his head and mouth and teeth like a pike.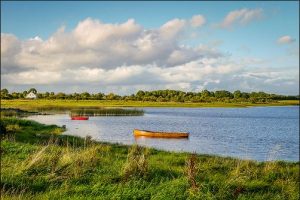 An Crannog
A few meters off the "cope" (end) wall there is a bank of reeds. This is at a rocky area which becomes visible at low water levels. According to some sources these rocks are of a variety not local to here. It is suggested that this may be the remains of a Crannog, a dwelling on water used in Ireland in ancient times.