History of Portrun Harbour
In 540AD St Diarmuid would travel to the Roscommon Abbey via Portrun Harbour.  Since this time, Portrun has been used by locals and tourists to connect with Lough Ree for recreational and tourism.
Annual Regatta 1900 to 1980s
Portrun Harbour was used for recreational events i.e. The Annual Regatta, which dates back to the early 1900's until the late 1980s.  Below is the winner of the 1913 Regatta  the Late Patrick McDermott, photo taken by Albert Siggins.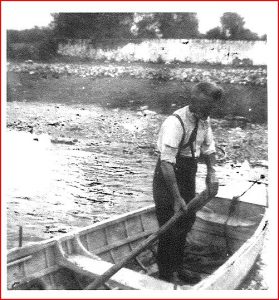 History of Portrun Jetty
In the early 1970's Roscommon County Council constructed the first jetty to enable boats/cruisers to moor over night. Paddy Kenny and Hughie Hanly built the original Jetty. In 2006 Waterways Ireland invested in a new marina with floating jetty to include 24 additional berthing spaces upgraded the existing breakwater and provide parking.
Ancient Times
From ancient times to the present, the vessels used to carry people and goods on the waters of Lough Ree have evolved. First century dug out boats fashioned from tree trunks, 'cots', flat bottomed boats with planks and some covered in animal skins were the earliest known. The Vikings arrived in the ninth century in small clinker boats of overlapping planks, riveted together.
The iconic 30 meter longboats arrived in Lough Ree in the about 935ad.  By 984 there were as many as 300 vessels on the lake which were used to plunder the island monasteries.  Another huge fleet of raiders from Munster came in 1089.  In 944 the bridges in Athlone and Ballyleague were first built. In 1156 there is a record of Ruari OConnor at  Gailey bringing his ships across the ice to Rindoon  In 1177 the Normans were attacked at Lanesboro.  In 1193 the Normans arrived to plunder Inchcleraun. Their vessels were designed to float large caterpulting  machinery. Ferry boats called wherries were used up to the 16th century.In the 1750s the Royal and Grand canals were built.
The vessels used to transport goods to and from lough Ree to Dublin brought trade boats such as barges and later steamboats. During the Georgian period, in the sixteenth and seventeenth century the gentry introduced pleasure boats in the area.
In 1731 Regattas began in Athlone. Edward Crofton had yachts at "the Lodge".  (Athlone Yacht Club was founded in 1770).
By the 1830s the rival yacht clubs had amalgamated and established the four day annual August regatta.
Self propelled barges were used from 1911 which ceased in 1960, when rail transport took over.
Since this time the boating on Lough Ree has been for mostly for pleasure. The cruisers were introduced in the 1990s.
(Source:  Bernadette Cunningham & Harman Murtagh Lough Ree Historic Lakeland Settlement)