The cultural heritage of Ireland includes a wide array of monuments, objects, landscapes and structures that were produced by the inhabitants of Ireland over the last nine to ten thousand years. The Heritage Act 1995 defines the national heritage of Ireland as including monuments, archaeological objects, heritage objects, architectural heritage, flora, fauna, wildlife habitats, landscapes, seascapes, wrecks, geology, heritage gardens and parks and inland waterways.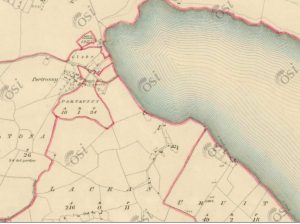 Portrunny and its catchment area has a wealth of historical sites, some of which date back to the 540AD. The River Shannon has a distinct placing in Irish history and as far back as the 10th century it is noted the Vikings used the river navigation as a means to attack Irish monasteries further inland. Inchcleraun Island (located off Portrunny) fell victim to these attacks by the Vikings.
With the support of the Town & Villages Renewal Scheme, Roscommon County Council and Waterways Ireland, Portrun Development Association aim to develop the Portrunny Heritage Trail. The trail will display heritage information and images relating to the following sites: Portrun Harbour, St Diarmaid's Holy Well, Portrun Church and Graveyard, Inchcleraun Island, Shannon View School, Galey Bay and Castle, Cloonsellan Abbey and the biodiversity of the area.   
The Heritage Council of Ireland was established under the Heritage Act 1995 and provides policy advice for government on heritage issues. The Heritage Council works with local communities to support education and heritage tourism which delivers a rich tourism experience and excellent practice in the care of our valuable heritage assets.