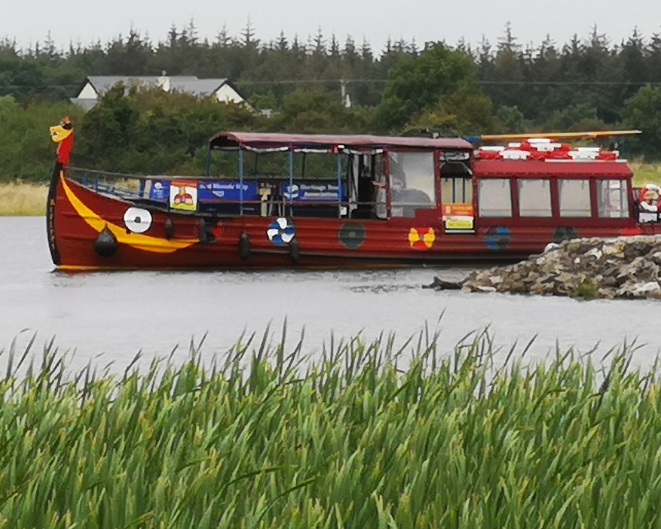 The Portrun Development Association Clg want to thank all who made Sunday 25th August National Heritage Day such a fantastic success. Finders, Seekers in conjunction with Fun at Portrun were enjoyed by those who came from the neighbouring parishes and further a field. We were blessed with a beautiful warm day as everyone joined the walk around the old trail of the Bothar Mhor. Upon return to the play area refreshments were on hand and we were treated to the stories by Tommy Murray. Then Billy Flynn Environmental Scientist arrived to lead the team of Finders and Seekers to discover the wonderful abundance of flora and fauna on the shore. The children made some wonderful drawings to represent the importance of keeping wild areas for wildlife and insects.
A Viking ship came and took people off around the islands,others opted to go out kayaking, courtesy of Vertical Kayaking and those on shore were treated to superb entertainment with Rachel Garvey, John Wynne and musicians from Gatehouse band. Knockcroghery Scor group gave us several fabulous songs and were followed by a lively group of people, the Ukephoric Collective giving the day a festive finish. We'll done to All others who helped add to the atmosphere by providing the marquee, the sound system, the vendors and an garda siochana. Roscommon County Council Heritage office were instrumental in the formation of the day, thanks to Nollaig Feeney and Claudette Collins, and also to Catherine Seale at Waters and Communities.
Thanks to all the volunteers and committee who organised everything, clean the area, fundraiser, remind dog owners to use the doggie bags provided and respect the environment we share with other people and wildlife.