There was an enthusiastic turnout at the Portrun Development Association fundraising night and website launch in Paddy Finns Bar on Saturday night last 1 April 2017. Chairperson of the association, Mr Gerry Hanlon welcomed everyone present. Mr Hanlon thanked everyone for turning out to support the night and to the wider community who purchased fundraising tickets. Local businesses were also highlighted for sponsoring prizes for the raffle and to Paddy Finns Bar for hosting the event. The funds raised from ticket sales and the raffle will go towards association expenses such as insurance, maintenance tools, fuel and flowers for the area etc.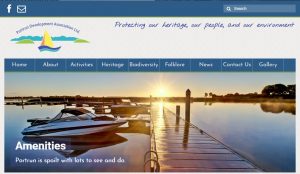 Mr Hanlon spoke about projects that the association hope to achieve over the next few months which included the 'Portrunny Heritage Trail' and to conduct a feasibility study to establish the future of Portrunny as an amenity for all. Mr Hanlon stressed the importance of grant schemes to community groups as they provide the seed money to get projects off the ground. The association are also in discussions with Roscommon Co Council, Waterways Ireland and Inland Fisheries in relation to a new slipway for Portrunny.
Mr Hanlon finished by saying that as the evenings are getting longer we will shortly be recommencing our weekly maintenance schedule where local volunteers carry out tasks at Portrunny such as grass cutting, litter control and general maintenance to the area. He appealed for more volunteers to get involved and give one hour per week to community work.
Ms Cora Mugan officially launched the portrun.ie website and spoke about the content. It is anticipated that the website will become an archive of information relating to the Portrunny catchment area and the focal point to catch up on local news and events. The website was kindly supported by IPB Insurance through their IPB Community Engagement Fund which provides funding to community groups as part of their commitment to 'giving back to society'. The website was designed by Opacity Design where Jamie Fergus provided invaluable experience. Ms Mugan paid tribute to her website development team for their work and dedication to the project.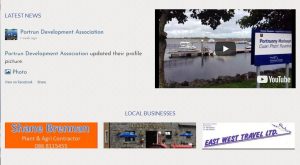 The attendance also heard of plans to hold a Community Arts Day which will reflect on the past, present and future. This day is due to take place during the month of April. Music on the night was performed by Derek Campbell and the association would like to acknowledge the following businesses who supported the raffle, Paddy Finns Bar, Kelly's Bar Lecarrow, Hannon's Hotel, Rachel Feeley Designs, Topline Wards, East West Travel, Anne Kelly Hairdressing, Post Insurance & Cllr Orla Leyden.
Portrun Development Association,  03rd April 2017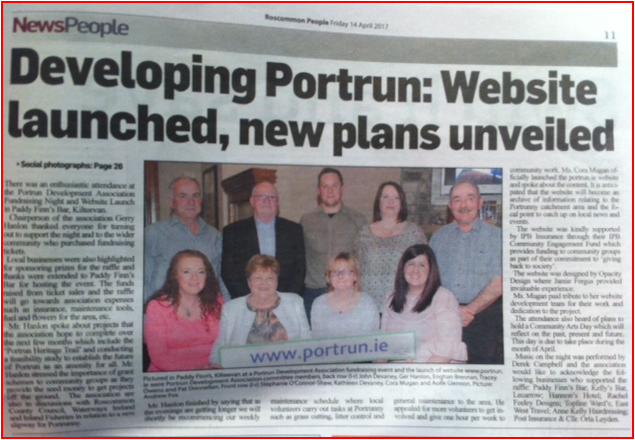 Press cutting from Roscommon People 14th April 2017