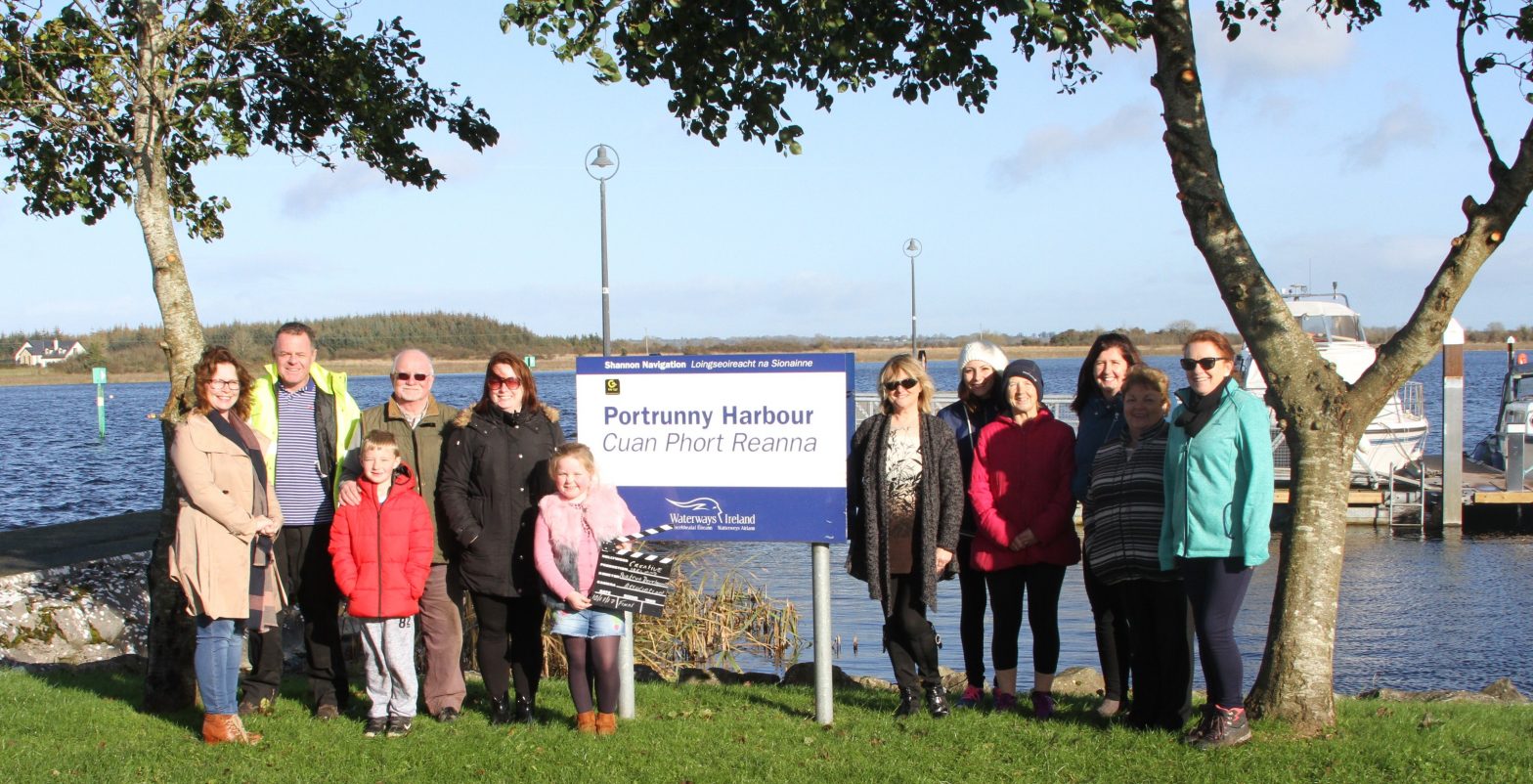 Photo shows some of the production cast who took part in our short film.
Portrunny production is the newest must‐see film of 2017!
Portrun Development Association have recently produced a short film which was supported through Creative Ireland entitled "Our People, our Heritage and our Culture Through a Creative Community".
The production which can be viewed on YouTube shows a snapshot of the day‐to‐day life and activities of Portrunny and the surrounding areas. It begins with a beautiful sunrise over Portrunny and shows the peace and tranquillity of the area on a summers morning where the only movement is the graceful gliding of a family of swans over the quiet waters of the bay. We then see the daily hive of activity that surrounds Portrunny, from local farmers going about their work, to the activities of both locals and visitors using the amenity area for recreational purposes. The film then goes on to showcase the deep history of this lakeside community as it visits some of the most important heritage sites around Portrunny and its surrounding areas.
Chairperson of Portrun Development Association, Mr Gerry Hanlon explained the idea behind the short film. "Since the association was reformed in 2016, our members have worked tirelessly towards making improvements to the area in order to enhance the wellbeing of locals, visitors and future generations. After consulting with members of the community on what form this project should take, it was decided that we would produce this short film showcasing what Portrunny has to offer to a wider audience."
PRO of the association, Ms Cora Mugan detailed how the film was produced. "Working with a professional videographer meant that we had a short space of time to accurately portray a whole day in the life of Portrunny through moving imagery. Lots of local people turned out to get involved, and luckily local groups such as the Kilteevan Wheelers and Vertical Kayakers also took part. What really added to the experience and the final production was that many of the people and activities that you see in the film just happened to be there on the day and agreed to be part of our production. It really shows how much the amenity area at Portrunny is used and how it enhances the lives and wellbeing of so many people!" Ms Mugan wishes to thank everyone who was involved in making the project such a success, and Creative Ireland for funding the project.
For anyone visiting Roscommon, this short film is a must‐see and no‐doubt it will help to attract visitors to Portrunny who might never have known that this hidden gem exists just a few short minutes off the beaten track! For anyone who hasn't yet seen it, links have been posted on the Portrun Development Association Facebook page and also on portrun.ie.