Portrun in the 1970s by Mary Coyle (nee Hanley)
My name is Mary Coyle – nee Hanley. I lived in Portrun (townland Cooltona) for the first 20 years or so of my life. We were a family of 4 – mam, dad, my brother and myself.
My grandfather Bernard Hanley built the 2 storey house later on in his life, a widower of many years he was married to Mgt Gannon, who came to live in Bracknagh to her relatives house (Paddy Gannon / PJ,s Fathers house) and was a teacher in Clooncagh school. The house was built by Mick Noone and John Sammon's brother, and so that is where my mother would have moved to when she came to Portrun as a bride. Frances Connaughton of Ballygurry, Toberdan.
We lived in a little village surrounded immediately by 4 other houses. Jimmy Brehony who lived beside the old graveyard (he was the last person to be buried there). Jimmy was an old IRA member, was involved in the 1916 rising and was imprisoned for some time after the rising, he was a popular figure and had lots of stories to tell he was a small farmer. Jimmys house has changed hands a few times since he passed away, Derek Allen (Castlemine Farm) and his wife now reside there.
Mike Tiernan lived on the little road that led to St Dermots Holy Well. Mike (same as Jimmy) lived alone. Mikes sister Bridie was married to Mike Tully and they lived on Bracknagh hill. Mike was the local hackney man.
Paddy, Jack and Mrs Dolan (their mother) were next house down. Mrs Dolan was a great woman I used to visit her almost every day – she sat by the open fire in her armchair with the wireless on a little shelf just over her head. I never at that time actually knew her name she was Mrs Dolan!!
Paddy and Jack were bachelors and worked on the farm – mainly Paddy. Jack had been in the army for some years. This house is now home to Pat, Agnes (niece of Paddy and Jack), Patrick and Elaine Donlon.
Across the road from Dolans were Larry and Gretta Quigley. Gretta was Tommy Geraghtys aunt.
There had been other residents in this part of the village but I only know the location of one family –that was the Faynes – they lived past Jimmy Brehonys house and behind the Hanleys original house.
Phil Fayne (Lyons) is mother of Polly Lyons (Reilly).
We of course had a pub in the village McDermotts – always know as macks – the best public house in Ireland. The pub was owned by PJ and Maureen (Hanley) McDermott they had 13 children. This was a thriving pub/shop/rambling house a place to get huge icecreams, chocolate, soup or a dish of Maureens speciality fried onions which I often got up in their kitchen. I can remember the total excitement when they had the phone installed I don't know of any other house that had a phone at that time – it was a big black box type of thing stuck to the wall with A and B on it.
Further on was John and Nan Tully – you can see their house when over at the swings. They had 4 in the family. Their daughter Maura is married to Pete Kelly – Feeragh. Their daughter and family now live on this road.
Further up that road – very further I thought when I was young – was Mugans house. Mick, Bridgid and family. Bridgid was a wonderful woman and she helped at stations or any occasion – she was a born mother and baked cakes to die for. She also helped lay people out when they passed away.
Their son Mick his wife Cora and family now live here. Further on past the swings were the Rourkes.
Micks house is the first and then Noel. Noel married Mary and they have 3 girls. Sonny – Noels father lived there with them till his death.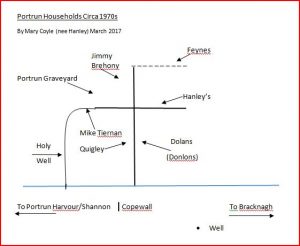 That was our village and our station area 10 houses in all. The station was a big deal back then – we always had ours in springtime – much to my poor mothers annoyance. If you were fortunate enough to have and autumn station you had all summer to prepare with good drying weather for paint and long evenings!!!! In preparation for the event apart from the decorating the priests' box had to be collected from the home of the previous station holder. This was a big suitcase like box that contained a few necessities for the priest. All the women in the village would help each other on the big day and it always went off without a hitch. It was a sit down meal for everyone – probably one of the few times you got to sample tomatoes and brown sauce – otherwise these delicacies were laid on for the visitors!!!!
I well remember when we got running water I don't know what year exactly but I was probably 5 or 6. My father dug a trench by hand through Jimmy Brehonys field beside our house – as a result we had cold running water in an outside tap. This was sheer heaven and my mother was beside herself with delight.
Before the running water everyone would go to the well –it was situated past the cope wwas and on Jim Geraghtys (Tommys father) land. This was a place not only to get water but a great meeting place where stories and gossip were exchanged, but no doubt having the water on tap at home made up for all this.
On the road towards Bracknagh was a turn to the right – which led to Clooncagh and Cloonmore.
At the head of this road was Tilly Hogans house – this house was a marker for a sort of bus stop – even though we didn't know such a thing existed back then. This was the spot where I got carried to mass by Luke Dan and his sister Minnie in his super anglia car. Luke Dan and Minnie sat in the front – in the back would be the 2 Mrs Killions, Maureen Mack, my mother and I and sometimes Mai Mack. It wasn't till years later I realised Luke and Minnie were Kilcline – NOT – Luke Dan and Minnie Dan!!!!!!
Some years later we got a car ourselves – my father bought it from Patsy Smith (McSharry) a grey anglia she tried to teach him how to drive, poor man did the test 4 times before he passed my poor mother doubtless had the rosary beads worn away.
Tilly Hogans house was also the spot where we got picked up for school by the teacher Mrs OSullivan she also had an anglia car so she carried a few of us beginners all the others walked to school. My time at this school was short lived as it closed and we were transferred to Knockcroghery school. We were brought to K school by car. This transport was provided by Fred Flanagan from Knockcroghery village. Fred and his wife Mary had petrol pumps and a few other provisions for the motor cars.
Freds car was a Corsaire it was a kind of lemony colour and had a bench seat in the front. My brother and I got picked up at the cope wall. He then picked up at the swings – we saw Maura Kelly at her front door on the day of her wedding with her fabulous wedding dress on, it was early weddings back then. She just stepped out onto the path with her veil blowing in the wind just as Fred turned the car about we thought it was a magical sight.
A very welcome sight in the village was the postman – Johnny Conheeney from Newtown was our man – delivered his letters come hail or shine which was even more remarkable as he did it all on his pushbike. We often got a parcel from America – sometimes the contents were very favourable other times not so much!! But just to get it was great. Whatever the weather we loved to see Johnny and of course he was always without fail invited in on the day of the station and at Christmas.
The travelling shop was another very welcome sight landing in the village we had not one but two shops – Donohues and OBriens. O Briens used to park at the crossroads and Donohues would come right over to our house – so obviously they were our favourite. Donohues van was driven by Frank Grady who hailed from Lecarrow. Frank would already have been at Granny Connaughtons house in Ballygurry and would have a letter from her – this was always a good sign as it meant she was going to visit us. Sure enough next day she would arrive on the bicycle, armed with clove drops and emerald sweets and a paperbag full to the brim of loose Kimberley biscuits bought in Murrays en route. She was a fantastic little woman and she lit up our house.
I was 11 years old when we got our first TV – black and white of course. It was the first one in our part of the village I think John and Nan Tully already had one. Now this was a major event – we came home from school there it was in all its glory installed by the late great John Nerney – who was amazed that we could get UTV and a BBC channel with an ordinary ariel – probably because we were on a good height – in a word magic.
March 2017