Portrunny - Noel's Memories - In conversation with Cora Mugan.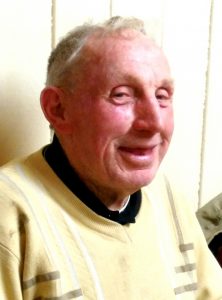 Over the early months of 2017, Noel Rourke reminisced about his long life on the shores of Portrunny bay. Noel is a bright, lively man who continues to farm in Cruit. He began by calling to mind his mother who died when he was 3. Those times were very different, indeed as he says himself "if I had listened to my father who lived to the age 98 and all the reminiscing he did, many more stories of Portrunny would be recalled". Noels mother was Lambert, a gate on the shoreline walk is known as 'Lamberts' gate', and his father married into the area.
Farming was our life. As young as 6 years old children, we were helping to do the work, I can recall clearly making drills for potatoes with my father. As we got a little older, 10 or 11 we helped with the hay. Those days we did not have tractors. Then the corn had to be saved. It couldn't be left on the ground, for fear of getting wet or damp. It had to be stood up into sheaves, built round and round so as not to fall and be watertight, 4 to 6 of these had to be 'stuck' together, which were tied down using twisted fibres to make straw ropes., On a summers day we stayed until we couldn't see one another.
Noel said his father spoke about the old houses of the area in the 19th century. People were only cottiers, at times they were not able to pay the rent, so they needed to show the landlord that they were improving the land and keeping the drains. If you didn't fertilize the corn fields or the potato drills, you'd have a poor crop. Therefore dung hills were often in front of the houses, as a sign of good farming since this was the only form of fertilizer there was.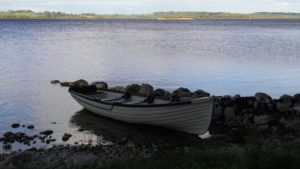 When I was a young gossoon, there was no running water. Despite being surrounded by water, it was not drinkable, but well water was. Over here in Cruit there were two spring wells. One is in the field, next to the house near the road. Over further towards the point of Cruit, there is another well with the best water and is the one we used, a long way for a child to carry heavy buckets of water daily.
In my early days good neighbours were important, but it wasn't easy.  Nan Killian was one of these, a hard working woman, she had big strong hands. We would go to help her When I thought I had finished she would come to the gate saying 'God blast it, where's he going, there's a big bag of slits (potato pieces with eye for sowing) to lay down. No quitting time'!!
Memories of Noel's Neighbours
A man called Johnny Egan lived in front of where the playground is now. He used to help on the farms around. He lived in very poor conditions. A saying he had was "No Pack Drill". Where Johnny lived belonged to Dan Cunningham before him. The road opposite the playground was called Dan's road by locals..
In previous times there were "tea and tobacco men", who drifted from farm to farm, finding someone to take them in exchange for work. They were lucky to get a few bob on Sundays.
I used to spend time doing work for two sisters who lived in Cruit. Bessie (married to Ned Brians), and her sister Kate Conrys who had returned from the U.S.A.
John Tully used to help Kate, she used to separate the calves at birth and give them to him to feed. She also kept turkeys which were fed on mash, i.e. a mixture of dandelion, greens, mash, nettles and leftovers formed into a ball. You'd hear her saying "pithit, pitchit" to call the turkeys. Another saying one of the women had was ''Go tell that to a clump of turf".
 Further along the shoreline was Paddy Joe Mc Dermott, who ran a pub. The pub was in the older premises in front of the bay. There, he ran the pub, farmed, fished and reared a large family. Many tales about him and the times that were held in the pub, which consisted of a small room at the front of the house. The Lodge on the end of the point opposite the jetty was a gathering house for fisherman and hunters. Finns, McNallys, O'Dowds, Dessie and Brody used to come out from Roscommon. They used to play tricks on the men as apparently the house is haunted, such as hiding the fishing gear.On the corner where the triangles are, was Hogans'. He was a small, light man with a great strength. He worked for Tom Feeney and Jack Feeney who lived in Lacken.
Rambling Houses and Social Life.
Dating back from the arrival of the motor car, on the long winters nights when the farming work eased, people would gather in a local house. In Portrun there were some rambling houses. Dolan's house was well known, anyone was welcome there anytime. You could often find 40 or 50 people within that little house which was thatched with hay. Killian's had a place called the Barn, where Geraghty's is now. It was a mighty place for dances. There was a big row one night, but the music kept going, it was like a scene from a film.
The local lads, when it came to finding money to finance socializing, always found a way to get it. Known as a "Ballgar", they would sell things to get to the dance in Culleeen Hall, Knockcroghery or the cinema (there were two in Roscommon, the Blue Moon and the Royal, where Rockford's is now). They sold rabbits, fish and would have an extra bag of spuds, which a clever trickster would often steal. Then find a way, at least 3 miles there and back after midnight. All after a hard days work!