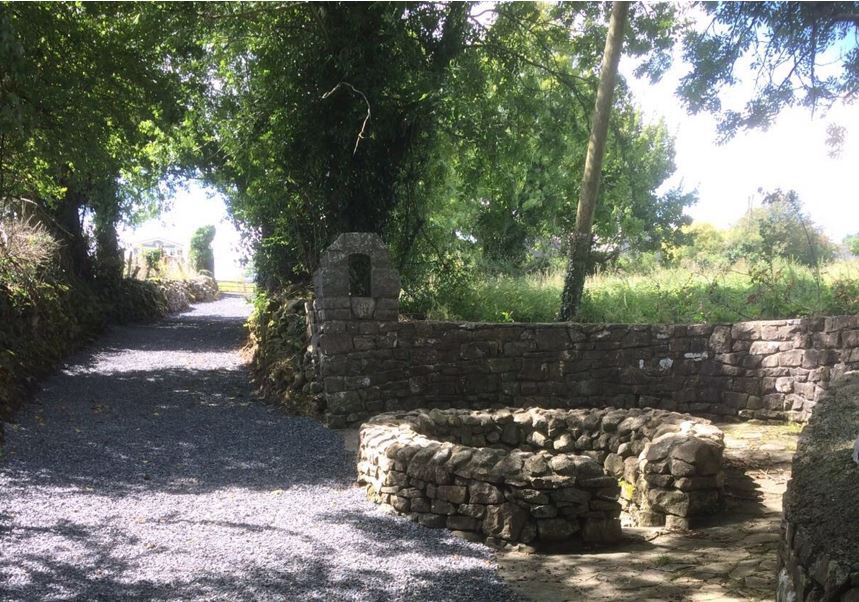 St Diarmaid's Holy Well – located along An Bothár Mór, Portrunny

St. Diarmaid's Holy Well
St. Diarmaid's Holy Well is located on a laneway, known locally as An Bothár Mór which leads down to Portrunny Bay. The well is 1.6m in diameter and is defined by a masonry wall with an opening on the east for access. The Holy Well is classified as a ritual site in the National Sites and Monuments Record (R0042-168001). A rag-tree can be found on the south side of the lane and traditions has it that pilgrims tied pieces of cloths to this tree in memory of their visit to the Holy Well. A church was never founded except near a well and the ruins of Portrunny Church can be found approximately 110m to the west of the well. Tradition has it that the water from the well has curative powers for eye ailments.
All Holy Wells in Ireland bear a striking resemblance to one another. Each well is usually found in a quiet place and sheltered by trees. When Catholics were forbidden under the Penal Laws to assemble for mass in churches, altars were erected beside these wells and mass was said there in secret whenever possible for the assembled faithful.
St. Diarmaid was an Irish abbot from the 6th century and is said to have been of royal blood and a native of Connaught. All the Irish saints have one or more blessed wells dedicated to their memory.   A famous teacher, poet, writer and preacher in his day, St. Diarmaid founded his monastery on Inchcleraun Island in Lough Ree around 540AD. Inchcleraun Island was the ideal location given it isolation from the day-to-day distractions of civilization and its tranquillity.
Here St. Diarmaid's fame soon attracted disciples from all over Ireland, among them St. Ciarán who studied under St. Diarmaid. St. Ciarán went on to found his monastery at Clonmacnoise further down the River Shannon. On Inchcleraun Island seven churches are traditionally said to have been built and the ruins of six are still evident today, including Teampul Diarmada or the church of St. Diarmaid. This oratory, 8ft x 7ft is said to have been Diarmaid's own church. St. Diarmaid died on January 10th at Inchcleraun and his feast is celebrated on that date.