Gailey Bay
Gailey Bay is ¾ mile long and ½ mile wide.  At the castle a rapid stream feeds from Lough Oura in Lackan which contains small trout. Lough Oura means Elm Lake.  The bay has a reputation for being very deep.  
There were regattas for large sea faring yachts with large canvas sails as well as rowboats built locally by Jimmy Furey and his people before him in Gailey.
Between Portrunny Bay and Gailey Bay is the area Cruit meaning small hill, and Lackan meaning small lake.  On this peninsula there are the remains of several clusters of cottages which predate the famine, which devastated many households.  According to records the families of the area were recorded in 1823-37 in the Applotments books, in the National Archives of Ireland, listed in the parish of Kilmeane 1901 Census of Ireland and 1911 Census of Ireland.
Gailey Castle
Gailey Castle lies to the south of Cruit and Portrunny Harbour.  Today its most distinguishing feature is the remains of a castle tower, festooned with ivy, close to the waters edge. Close by here are the remains of a boathouse which was used by the Croftons, landlords who resided in Mote Park about 5km away.  
O'Kelly Chieftans - 10th Century
Prior to the Viking invasion the O'Kellys were chieftains of South Roscommon /east Galway, O'Kellys resided in the area of Ui Maine of Roscommon hence the area of Portrun was in the parish of Kilmeane.   The present parish of Knockcroghery is an amalgamation of two parishes of Killinvoy, that church is now Culleen Hall, and Kilmeane, whose church was close to where the present Ballymurry school is located, beside Mote Park. According to the Roscommon Folktails collection ( Pat Watson), around the 10th century Brian Boru became friends with the O'Kellys and they joined forces with the O'Connor clan to defend against the Vikings.
Apparently a clan with great influence and with much social character providing the Irish 'the Welcome Of The O Kellys, Failte Ui Cheallaigh. In 1340 there was a rivalry between two of the O'Kellys and William Boy O'Kelly retained the title, Chief of Ui Maine.
Gailey Castle was built in 1340, Gailey was named Gaille at that time.  Recorded in the annals of Clonmacnoise is the celebration held in 1351 which took a year to plan, and went on from Christmas into New Year until St. Bridget's Day Feb 1st, William MacDonnough Moyneagh O'Kelly invited all the poets, brehons, harpers, gamesters, jesters and others of their kind to his castle at Gailey. They extolled William for his bounty.   The surrounding cottages hosted the vast number of guests and were made most welcome. From this time on people who visited Gailey Bay and its environs report loving feelings while there and are said to have composed songs and poetry to express these, such as one which began "the poets of Erin to one house".  He had another castle built in 1353 in Callow, Kilconnell, Ballinasloe Co Galway.  He died in 1381.  He had a son Maeleachlainn who married Finola and they lived in Abbeyknockmoy, until 1401.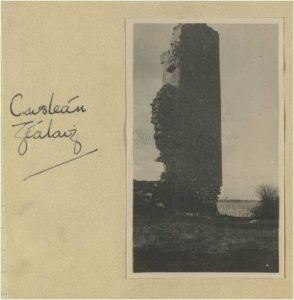 During the Cromwellian of the early 17th century wars the face of the Irish landscape changed drastically. Chieftains and their families along with their workers were forced to Connacht from other areas of Ireland. A Captain Collo OKelly in the battle of Kinsale in 1601 for the English. For his services he was granted lands by Queen Elizabeth. The signed document was preservered at  Castle Kelly at Killian two miles of Ballygar Co. Galway.  On February 1st 1612 got a grant of castles in Knocroghery area.  He died in 1615 (is buried in Kilconnell). A band of cromwellian soldiers under the authority of Sir Charles Coote arrived in Roscommon. It is  widely held view that they laid siege to Gailey Castle. His terms were that would be no quarter (old name for court) if there was an immediate surrender. For their resistance In 1651 the O'Kellys and other local chieftains along with many others were brought to Creggan, hill with a stony outcrop, which is a mile from Gailey Castle, at that time. From then on this was called Cnoc na Chrochaire, hangmans hill, anglised to Knockcroghery.
However it seems some survived as in the Griffiths valuation of 1857 there were four tenant farmers in the area of whom some were O'Kelly. The O'Kellys are connected with Naughtons and Fallon clans.
Since then the castle has been eroded, particularly undermined at its base , as it may have been ready source of  material for roads and walls.
In recent times efforts are underway to preserve this icon of history.  An event is held regularly at Gailey Castle at which members of the Kelly Clan are reunited. Local historian John Kerrigan talks at thenese events. He also holds guided tours to Gailey for students of primary and secondary schools.