Groups and Clubs using Portrunny for Leisure, Practice and Training Events
Roscommon Sports Partnership hold kayaking courses in Portrun during the summer months and organise Kayaking Trips and expeditions for more experienced Kayakers. Courses are run during the day for children with adults being catered for with evening classes.
The Irish Civil Defense use Portrunny for training purposes.
The Roscommon Sub Aqua/Irish Underwater Council train weekly in Portrunny during the summer  months.
Triathlone 2017 – Athlone Triathlon Club in conjunction with Waterways Ireland have organised many Triathlons in the Portrunny area, these consist of 5km run,22km cycle and 750m swim.
Boat Club – Roscommon Sports Partnership –  The local boat club was established in the 1960s. An annual  regatta was held in July. It consisted of single, double sculls at underage and senior levels. The route would run from the edge of the bay at Cope wall to point of Cruit and back.   Classes were run to build boats in some years during the winter.  Seamus Kilroy from Strokestown a Vocational School Teacher was one of the instructors. It took from September to March to make. The materials cost 100 Irish pounds. In the shed of the railway station Des Murphy, James Kelly,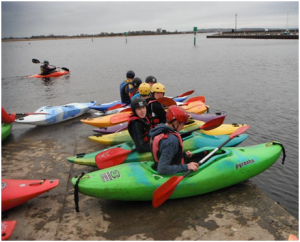 Michael Mugan, Pat Lyons and John Devaney gathered. When the boats were completed they were lined up outside the local church to be blessed.  
The decline of the Boat Club occurred in the 1980s due to emigration. 
Fishing Competitions – The boat club ran fishing competitions, which started at 6am on Sunday and finish at 6pm. All through the 1970s, the competitors would auction the catch for charity,30 or 40 pike, down by the bay. One year Mr.White caught a 26lb pike.
Shannon View Game and Wildlife Association  –  Clay pigeon shooting was held in Cruit.  Paddy Lyons gave permission for the event to be hosted on his land around 1978.   Some of the members of the association included; Barry Mullen who played number 10 jersey for Ireland, Frank McDonald from Dublin, Mickey Sammon, Tommy Kilroe and John Devaney.
Pheasant and Mallard Breeding Hatchery – The local schoolchildren under the guidance of Mr Eamonn Spillane, Headmaster of St Mary's National School, Knockcroghery ran a pheasant and mallard breeding hatchery. They eggs were incubated in the school an released in the wild when hatched.  A thoroughly  memorable experience for the local children. They reintroduced pheasant to Cruit.