The Shannon Boat Rally is organised jointly by the Athlone Branch and the Carrick Branch of the Inland Waterways Association of Ireland (IWAI). The Shannon Boat Rally is the most prestigious and well-attended boating event on Ireland's inland waterways. The main objective is to bring boaters of all types together to participate in a ten day long fun event for families and friends on the river. On Saturday morning the boats will travel from Ballyleague to Portrunny lead by Commodore Niamh Herraghty arriving into Portrunny Harbour around midday.
The spirit of the rally is to bring boaters of all experiences together to share in a common purpose to enjoy the waterways, to share boating know-how and improve one's boating skills. The rally has attracted many boaters to our inland waterways and promoted development of facilities along the navigation as well as bringing a great dynamic and valuable business to the towns and villages along the river and lakes. The rally also encourages responsible use of the waterways for the benefit of all waterway users and has a strong educational and safety theme throughout.
Further details can be found on IWAI website – www.iwai.ie/shannonrally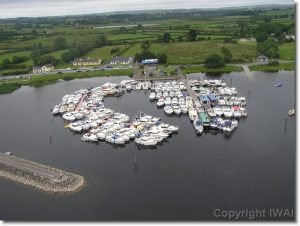 (Photo courtesy of IWAI from previous Shannon Boat Rally visiting Portrunny)
Portrun Development Association welcomes Inland Waterways Association of Ireland to our wonderful marina at Portrunny as part of the 58th Shannon Boat Rally.